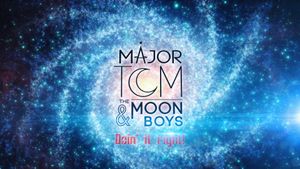 Press & BIO
 "Despite the altered scene, one thing definitely felt normal though: songs by The Rolling Stones, The Beatles, Billy Idol and David Bowie, performed by Major Tom & The Moonboys, one of the most popular Utah tribute bands. 
Tribute bands like Major Tom & The Moonboys, best known for playing songs from Bowie's vast back catalogue, give us a sense of nostalgia during troubling times." --Jaime Winston,
"Salt Lake City Bard" Magazine
 https://slbard.com/2020/08/the-best-utah-tribute-bands/
--------------------------------------------------------------------
 "I closed out my concert cruise with Major Tom and the Moonboys, who put on a entertaining show as well. Acting a bit tipsy, lead singer Major Tom Larsen captured well that nonchalant 70s' Rock 'n Roll bad boy character. And the band was on fire. Larsen will do a great Mick Jagger at the upcoming Stones Concert Cruise on Aug. 1".--Scott Cullims, Salt Lake Bard Magazine (8-15-2020)
------------------------------------------------------------------------
 BOWIENEXT FILM aired June 13th RAI5 Italian TV:  Features video of Major Tom & The Moonboys performing live David Bowie's song "Lazarus".  [Translated--Videos, artistic tribute from all over the world, animations, testimonials of fans, theatrical performances, performances, original pieces. A film telling the David Bowie galaxy two and a half years after the disappearance and 31 years since his arrival in Italy "lives" for the first time with the Glass Spider Tour. The document, recorded and created by journalist Rita Rocca, will be broadcast by Rai 5, early evening June 13th.  The film is a journey to the galaxy of artistic tribute inspired by the White Duke and sent by fans from all over the world. "The idea was not to copy it, not to take pieces of repertoire, but to create something original inspired by Bowie, and I have to say that very beautiful and very professional things have come from all over the world even exceeding expectations," explains Rita Rocca. In the two years of processing, Bowienext has been enriched by a series of interviews, not only for fans, but also for musicians who have worked with Bowie like Rick Wakeman, Lindsay Kemp, Earl Slick, Mike Garson, Gail Ann Dorsey and Sterling Campbell. And also to people who have known him as Dario Argento and Sydne Rome and to music critics who have studied the figure like Simon Reynolds and Francesco Donadio.
 ---------------------------------------------------
Tom Larsen ("Major Tom") provided a written piece for the 2018 BowieNext companion book:  "Bowienext. Interviews, memories and testimonies on the Man of the Stars": https://www.facebook.com/BOWIENEXT/videos/2271160473126520/
---------------------------------------------------
https://www.heraldextra.com/entertainment/music/for-draper-s-tom-larsen-his-bowie-band-is-a/article_35c61169-0096-5dbc-a4cc-5fcddafa94c8.html
---------------------------------------------------
MAJOR TOM BIO:  "The last time I talked to Ken Scott (legendary engineer/producer) he was sort of chuckling, saying "David is doing his 'grandfather rock' thing" as we discussed briefly Bowie's new look and staging of the 1987 "Glass Spider" tour.  I was introduced to Mr. Scott via John Kurzweg (Multi-platinum Creed producer).  Scott had produced Kurzweg's debut album and I was in Tallahassee, Florida where John was slated to produce MY debut album.  No knock on John but now just a couple degrees of separation from my music idol David Bowie, I was looking at the real possibility of having Ken Scott produce me!  Ken and I talked in earnest several times over the phone—he expressed interest, but a change in my life's plan took another direction and it never came to be. 
               Besides, I may have had trouble anyhow.  While the labels liked my music, and I had UK label offer, often I was told I "sounded too much like David Bowie—and there already is a David Bowie". 
               Ha!  "What can I do?", I would ask them, saying, "If I tried NOT to sing like Bowie, it would actually be more artificial."  Fact was, I'd been singing to Bowie songs since early adolescence—knew every word to every song, every inflection, including all his background vocal parts.  In a sense, I considered it a sort of "full circle" where, just as David was a master of subsuming different identities to creative effect, I was doing the same.  Along with millions? of other "Bowie victims" (as I've heard the condition affectionately called). 
               While other mega stars have their devoted admirers, who watch mostly from afar, I can't think of another artist who has inspired so many who wanted to BE the artist; to look like, sing like, dress like, act like. 
I had an "outsider" childhood; a "broken family" motif fairly rare and stigmatizing for early 1960s--single working mother and moved a lot.  An only child, I mostly withdrew and lived in a world of imagination.  Precocious, artistic with a penchant for flamboyance, I developed a genteel narcissism—thought myself special.  Enter David Bowie. 
               1975 (age 13) I think it was when my swingin' mid-70s (mom remarried) upper-middle-class parents had one of their regular "professionals" parties (lawyers and such).  One woman stayed late, and I was still up listening to their party music in my room.  I came out for some water . . . my stepdad introduced her as a friend of a friend and said she was a rock'n'roll photographer, just off the road.  I expressed my love for music, for rock and roll, and she informed that she had just been on tour taking photos of an amazing, enigmatic rocker named David Bowie who she said was unlike any other, a mystery and fabulous.  She mentioned his wife, half-joking she wasn't sure if he had a wife, or if his wife (who looked just like him) WAS actually him!  She described his music, his stage show, his look and personality and all the eccentric surrounding hype.  I was instantly intrigued. 
                Within days I bought the album "The Man Who Sold The World" and soon submerged into it's disturbing yet mesmerizing tales and sounds of passion, alienation, madness and myth.  I related to all of it. 
                Next came "Space Oddity".  Now I was a mystic hippy boy wanderer, "somewhat slightly dazed"  with every longed-for teenage love my Hermione.  And on it went from there, through the years hungrily following Bowie's musical and stylistic permutations, incorporating them into my own identity, infatuated and ever impressed by his pioneering ability.  I was a young musician myself, writing and recording songs and every move he made (for me) was exciting as it gave me an ever-widening "Bowie-esque" palette to emulate or inspire. 
               The only other hard-core Bowie fan I knew of in high school was a girl—a young model a couple years my junior who I traded rare and bootleg albums with, and who eventually became my wife!   Our four children all became early fans and still are.  Once they were grown I began to consider getting back into music in 2015.  Though I'd never stopped writing and recording my songs through the years, I had not performed live since the late 80s.  I wondered if I could find some musicians who'd be interested in putting a David Bowie "cover" band together.  Instead of the occasional back-handed complement "you sound just like David Bowie", in this case it would be a definite advantage!  
               Along with so many others, our family was shocked and saddened at Bowie's sudden passing, January 10th.   My youngest son, also a musician had a show already scheduled the following night and he invited me to sing "Heroes" with his band in tribute.  We sang the epic song to a sold out, teary-eyed, very emotional crowd.  I did soon thereafter have a "tribute" band together and have thrilled at being able to perform and sing so many of David's fantastic songs from all eras. 
                Where I was often considered an "outsider", a bit of a "loner" . . . a "dreamer", "different"—David Bowie was like a patron saint for me.  He showed me the way to take pride in being "different", to maximize and refine my "differences", carry myself with confidence and a certain élan.  When meeting other Bowie fans it's like being instantly with family and comrades, fellow keepers of a unique esoteric form and knowledge, kept with a knowing wink.  Long live The Duke!  --Tom Larsen" 
http://www.arcanaedizioni.com/prodotto/rita-rocca-francesco-donadio-bowienext-interviste-ricordi-testimonianze-sulluomo-delle-stelle/
  ----------------------------------------------
 FAN/INDUSTRY COMMENTS
--Jessie Walker (New City Movement" Culture Magazine): "Major Tom not only sounds amazingly just like Bowie but also carries off Bowie's mannerisms, look and style with startling accuracy, backed by a top notch, professional band of musicians who likewise capture the "Bowie" sound.  Lead singer Tom Larsen's Bowie-esque affect and vocal talents are uncannily close to the real thing."  
--Randy Harward(Music Editor, Salt Lake City Weekly):  "'Major Tom' Larsen makes an impressive Thin White Duke, nailing the look and the sound!"  
--Carolyn Von Rahl (Bowie fan Club): "You have the ability to emulate David so well Tom. Your voice, mannerisms and look take me there! Not many can do that. Just awesome!!!"  --
--Dean Ledger: (On MT&TM "Let's Dance" post): "Fantastic, best version. This is similar to the pre Nile Rogers production which probably wouldn't have been commercially viable, but was so much more Bowie. I loved his request to Nile; "I want the same, but different" cool Bowieism. 
You guys are extremely talented and I wish we could experience your show here in the UK. 
Mind blowing and 100% accurate. I've seen a few Bowie tribute acts but this is the best. As good as Ben Portsmouth's "Elvis" and he's now doing Las Vegas!" 
--Sharon Fraser (CEO Bowie Fans New Zealand/Worldwide): "Would be great to see you play in a show. You should think about visiting New Zealand and doing a few gigs :-) Do you have a manager?" 
--Peter Gilmartin: (on MT&TM "Star" post): "Proud you represent bowie in such a professional way thank you and keep up the great work to you and your band." 
--Elizabeth Kemble (CEO at Travellati, specializes in European "Bowie tours"):  "Wow, fabulous Tom! I like how you don't copy Bowie's performances exactly but reinterpret them as though he were doing them live again for the first time. It gives a freshness to the songs -- and your performance. Love on 'ya!!!!" 
----------------------------------------------
SALT LAKE CITY WEEKLY Magazine: Major Tom & the Moonboys (David Bowie tribute)  
"A David Bowie tribute in Sugar House's Fairmont Park? During a farmers market? It sounds a bit silly, in spite of the hipster neighborhood and event—but what would you rather listen to while picking out produce? Elevator music? That ridiculous, ubiquitous "Safe and Sound" song? I'd much rather hear Tom Larsen and his band doing a set of Bowie's deep cuts, like "Janine," "Black Country Rock" and "Speed of Life." Why deep cuts, when most tributes focus on hits? "I really designed the band for the deeper Bowie fan, like me," says "Major" Tom Larsen via email. "They know and love the rarely played songs." Larsen sees MT&TM more as a cover band than a tribute. "I'm interested in playing Bowie's best music, which wasn't necessarily only the hits." Larsen does perform standards like "Fame," "Heroes" and even an unusual extended version of "Let's Dance" from Live at the BBC (2000). More importantly, he makes an impressive Thin White Duke, nailing the look and the sound."